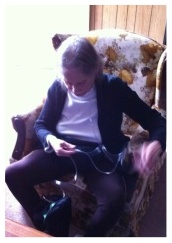 We drive to the restaurant and Michael did a really good job. He did have to back out of the parking spot twice and pull back in again but, he finally got it right. When I go into restaurants I always walk (instead of using my scooter), when we get inside I asked the hostess for the table closest to where I'm standing at that particular moment. By the time I walked into the restaurant I'm so SOB, I never have a problem with them accommodating me. Once we're seated I order a drink then I use my oximeter to check my oxygen level, it's at 86, I start pursed- lip breathing to bring it back up to where it should be, which for me is 95/96 at rest. 10 minutes later I'm back to where I should be, lunch ordered and enjoying a drink. Michael loves going out to lunch with me, I let him order anything he wants no restrictions (except he's not old enough to drink alcohol). Lunch is very enjoyable and relaxed, we spend about an hour and a half having lunch and visiting before we head to shopping.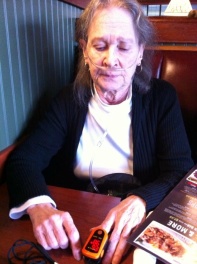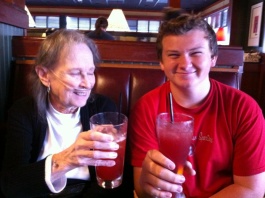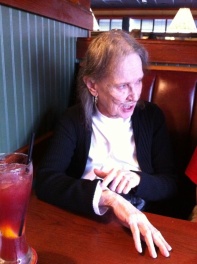 We're going to the Dollar Tree, they have a selection of frozen food I like to get that can be cooked in a microwave or toaster oven and are packaged with one person in mind. However the Dollar Tree doesn't have the shopping scooters, and when I asked Michael to get mine out of the van, we find out the battery's dead. That means I'm going to have to walk around the store, that's going to make our shopping trip twice as long. Because just like with the dressing, it's go down an aisle stop and rest, reaching or getting something off the shelf stop and rest. When you have COPD as severe as mine, compounded by my CHF, every little thing you do make you SOB. When it's just Michael and I he stays with me the whole time getting things off the shelves and out of the freezers. Today since I'm pushing the cart I do it myself and Susan is nearby if I need any help. The reason you don't see Susan is because she is the one taking these pictures. While in the Dollar tree, Michael walks over to Kmart because he wants to get a Halloween costume for a school function. And as you can see from the pictures, I make out on my own just fine. I know my oxygen level is low, but I don't check my stat in the store. The full impact of my breathing and walking around the store will not hit me till I get into my van and sit down. After we finished shopping and I go out to the van and get seated I take out my oximeter to check my stats, as the picture shows my oxygen level is at 73. It's at times like these I'm thankful I took the Xanax before I left the house. When I go shopping alone, or when I have to drive, it takes me at least 15 minutes once I get in the van before I catch my breath enough to drive. Today I can just concentrate on bring my stats back up and let Michael drive us home.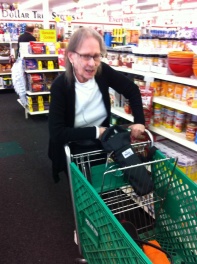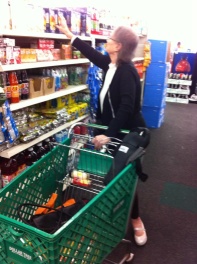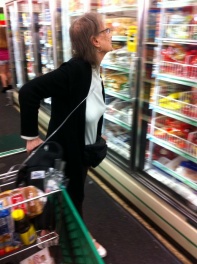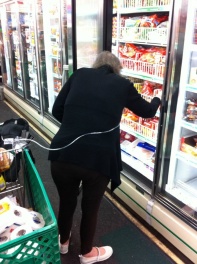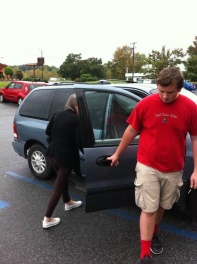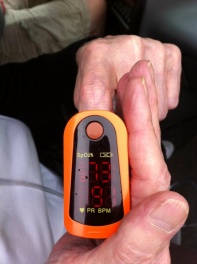 Once I get back to the house, the hardest part of this whole day's outing takes place. It is walking from my van up the steps into my apartment. The are only three steps I have to walk up, but I know walking up those steps are not only going to make me extremely SOB, but, send my heart into overdrive. I have to walk up one step at a time, putting both feet on one step before I can take the next. I also use the rail to help pull me up from one step to the next. Susan goes ahead of me and unlock and opens the door. When I go out alone I never lock my door, because by the time I get to the top landing I wouldn't have the strength to unlock it. Once I get inside I collapse on the chair, (which is three steps from my front door). I have to calm my heart down before I even get out my oximeter to check my stats. The picture of me with my eyes closed and head up, that's me praying to God for His help in getting my heart under control so I don't go into cardiac arrest. The reality of COPD is very few people actually die from it. Most die of related diseases such as chronic heart failure. My praying brings me peace so I can get out my oximeter, check my oxygen stats, and I start pursed-lip breathing to bring up my oxygen level and my heart rate down. While working on my breathing and heart stats, Susan and Michael put away all my groceries. They know that the best thing to do is leave me alone till I catch my breath, so I can go to the bathroom, come out catch my breath again and start talking.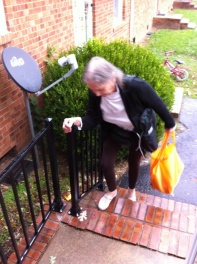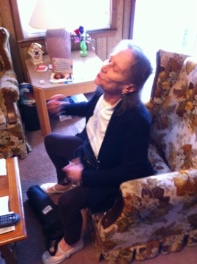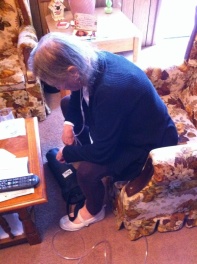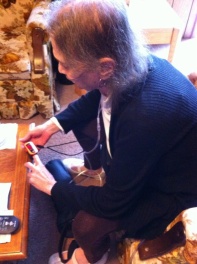 After about 20 minutes I'm back to normal again and Susan and I can have a visit while Michael puts the doors back on my bathroom cabinet that he took off and helped me paint a few days earlier. He has a hard time getting the knobs back on so he brings the door to me with the toolbox and I have to show him what to do.
After he gets done with the doors, he comes out wearing the Halloween costume he bought. He want me to see what he got with the money I "lent", lol, him. He's a big yellow banana, I get a big hug and I love you grandma, thanks grandma, he know I don't ever make him pay me back.